With COVID-19 cases on the rise in Tokyo, the government declared the fourth state of emergency on July 8 to deal with the pandemic, which had documented more than 900 cases the day before.
The state of emergency will be in effect from July 12 to August 22, encompassing the whole duration of the Tokyo Olympics, including the Opening Ceremony on July 23. The Closing Ceremony will take place on August 8.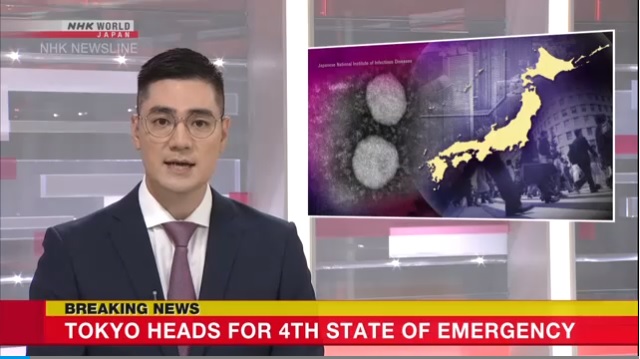 Gov't Places Tokyo in 4th State of Emergency as Tokyo Games Approaches
The state of emergency in Okinawa Prefecture will also be prolonged until August 22, as will pre-emergency measures in Kanagawa, Saitama, and Chiba prefectures, which all border Tokyo and Osaka in western Japan, the Asahi Shimbun reported.
The current pre-emergency measures for five other prefectures—Hokkaido, Aichi, Kyoto, Hyogo, and Fukuoka—will expire on July 11.
A state minister stated during the July 8 meeting of the government panel of experts that stronger measures will be implemented for prefectures under the state of emergency, as well as other measures affecting facilities that serve alcohol.
There have been numerous complaints of bars and restaurants being open, and even serving alcohol, past the requested closing time.
Yasutoshi Nishimura, the state minister in charge of economic revitalization who also leads the central government effort to combat the pandemic, stated that fines against those establishments would be strictly enforced, and that suppliers of alcoholic beverages to those outlets would be asked to cooperate and refrain from providing the liquids.
However, in order to encourage more businesses to collaborate, Nishimura also stated that preparations are being prepared for payment of cooperation money to pubs and restaurants to be made considerably faster than has previously been the case.
Companies in prefectures covered by pre-emergency measures were permitted to offer alcohol until 7 p.m. as long as certain conditions were followed; however, from July 12, those businesses will be required to stop providing alcohol.
Alcoholic beverage and karaoke establishments in Tokyo that are under the state of emergency will be asked to close temporarily for the duration of the measure.
READ NEXT: What You Need to Know About the Upcoming Tokyo Games