For many Filipinos, saving up has always been an elusive goal to start with. But given more options to manage your finances in the form of doing investmennts and performing day-to-day transactions such as paying for your bills and shopping, getting a savings account (in the form of an ATM account) has proven to be very useful nowadays.
In spite of its relatively recent beginnings, Chinabank has already assumed the role as one of the leading thrift banks in the country today. With its impressive portfolio in the retail lending industry, Chinabank has grown in leaps and bounds in terms of its market presence in the country in just a short span of time with more than 150 service branches all over the Philippines and an impressive service platform for retail banking, auto, education, housing, and enterprise financing. In its quest for excellence and dedication to customer service, Chinabank has broadened its service offerings to cater to the varied and changing demands of a wide range of consumers as well as in the growing field of Small and Medium Enterprises (SME) in the Philippines. If you would like to apply for an Easi-Save account with Chinabank, continue to read: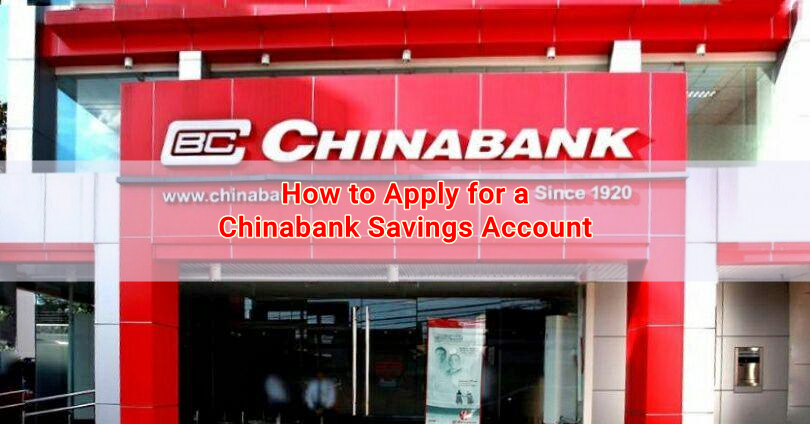 Applying for a Chinabank Savings Account
As a savings account holder of Chinabank, you get to enjoy the following benefits and services such as:
A very minimal initial deposit and minimum maintaining balance of Php 500 for an Easi-Save Account.
For an Easi-Save account to earn interest, a monthly minimum balance of Php 1,000 is required.
An annual interest rate of 0.50%
With Chinabank's extensive ATM network (over 160 locations), you can conveniently access your funds and perform simple account transactions such as checking your account balance, making deposits and/or withdrawals, transferring funds, paying bills, and shopping via BancNet partner merchants nationwide.
Requirements:
Original and clear copy/ies of at least one (1) of the following government-issued IDs:

Driver's License
Postal ID
Voter's ID
Passport
Senior Citizen Card
Barangay Certification
Overseas Workers Welfare Administration (OWWA) ID
Overseas Filipino Worker (OFW) ID
Social Security System (SSS) Card
National Bureau of Investigation (NBI) Clearance
Professional Regulations Commission (PRC) License Card
Government Service and Insurance System (GSIS) e-Card
Police Clearance
Seaman's Book
And others…

Two (2) pcs. of your recent 1×1 ID photo
[Update] Tax Identification Number (TIN)
Procedures:
Visit the nearest Chinabank branch in your area and bring all the above-listed documents for opening an Easi-Save Account.
Advise the bank officer at the New Accounts desk that you are interested in opening an Easi-Save Account.
Accomplish the account opening application form.
Note:  Remember to double-check the information you have provided in your application form to ensure a hassle-free application process.
Submit your application form together with the requirements as well as the initial deposit for your savings account of choice (Easi-Save).
After you application has been processed and verified, the bank officer will inform you as to when you may visit the banch once again to collect your ATM card and other account documents.
Note: This usually takes about 3-5 banking days or as per advice by your chosen Chinabank branch.