There are certain things that you need to consider when you're shopping for banks to open a savings account. Firstly, you need to know that your bank is stable and reliable enough to handle your finances. Secondly, your bank has to be consumer-centred as seen in their selection of products and services offered. And finally, the bank that you will sign up with needs to put a premium on convenience and accessibility as shown in their market presence and visibility.
The Rizal Commercial Banking Corporation (RCBC) is considered as one of the leading universal banks in terms of assets and client reach in the Philippines. It is also one of the most successful thrift and commercial banks in the country today. The RCBC Savings Bank is a member of the Yuchengco Group of Companies (YGC), an organization composed of major players in all three aspects of Integrated Financial Services (banking, insurance, and investment). With RCBC's extensive selection of banking products and quality delivery of services, a lot of people with various backgrounds have entrusted their finances with RCBC. If you are interested in personally applying for a savings account with RCBC, here's how: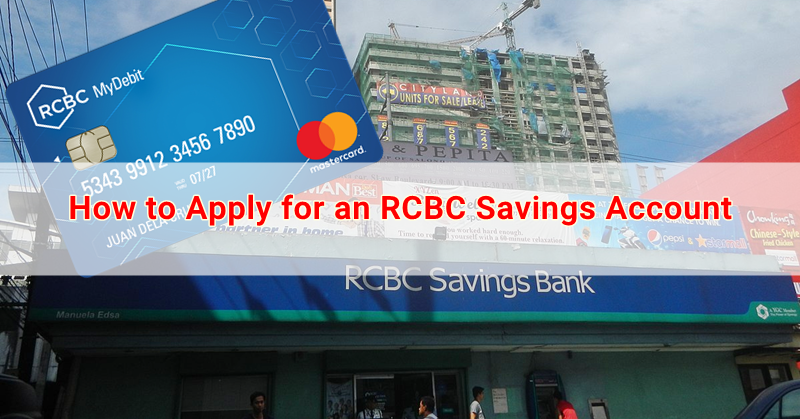 Applying for an RCBC Savings Account
Signing up for an RCBC savings account entitles members to the following benefits and services:
Low initial deposit and maintaining balance starting at Php 500 for a regular ATM savings account
To earn interest of 0.25% every year, a minimum monthly average daily balance (ADB) of Php 25,000 is required
Access your account via ATM or thru RCBC's online banking facility.
Available in various currencies such as Philippine Peso, Japanese Yen, US Dollar, and Euro currencies to suit financial capacity and account savings preference.
Requirements:
Two (2) pieces of your recent 1 x 1 ID photograph
Any two (2) of the following valid IDs with photograph (original and a photocopy):

Passport
Voter's ID
Postal ID
Driver's license
TIN ID
HDMF Pag-Ibig ID
GSIS / SSS ID
Government Office and GOCC ID (e.g. AFP ID), etc.
OWWA ID
Senior Citizen's ID
Police / NBI Clearance

Recent proof of billing / billing statement (Does not have to reflect your name, but the address must be the same with your current address in your application form)
The initial deposit worth Php 500
[UPDATE] Tax Identification Number (TIN)
Procedures:
Visit the nearest RCBC branch in your area and bring all the above-listed account opening documentary requirements.
Advise the bank officer at the New Accounts desk that you are interested in opening a new ATM savings account.
Fill out the application form from the bank officer. Make sure to review all the details in your application. Once everything is in place, submit the form together with the required documents.
The bank officer will review and verify your application form and documentary requirements, you will be advised as to when you may return (usually after 3 to 5 banking days) for the collection of your ATM card and account documents from the same RCBC branch.