It is easy and convenient to open an RCBC OFW savings account online, and doing so has a number of benefits. To get started, you can use RCBC's online banking system to handle all your account management needs and make money transfers. In addition to this, the money that you deposit will earn interest, which will assist in the growth of your savings over time. If you ever find yourself in a financial bind, you can get money quickly and conveniently from an RCBC ATM. Why not get started right away by opening a savings account with RCBC?
RCBC requires only a few pieces of identification in order for you to open a savings account with them. After you have established an account, you will be able to access it either online or through a mobile application. Customers of RCBC are eligible for a number of additional features and advantages, including a high interest rate, the elimination of monthly maintenance fees, and the provision of a free ATM card. Reading the rest of this guide will provide you with additional information regarding how to open an RCBC OFW savings account online.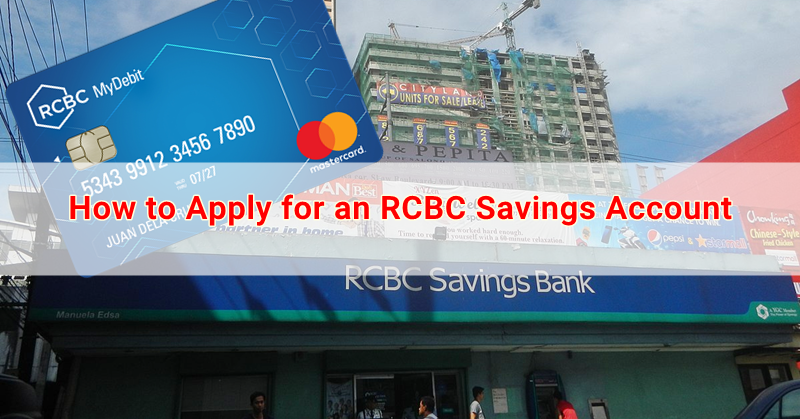 By Judgefloro – Own work, CC BY-SA 4.0
Applying for an RCBC Savings Account
The Rizal Commercial Banking Corporation (RCBC) is considered as one of the leading universal banks in terms of assets and client reach in the Philippines. It is also one of the most successful thrift and commercial banks in the country today. The RCBC Savings Bank is a member of the Yuchengco Group of Companies (YGC), an organization composed of major players in all three aspects of Integrated Financial Services (banking, insurance, and investment). With RCBC's extensive selection of banking products and quality delivery of services, a lot of people with various backgrounds have entrusted their finances with RCBC. If you are interested in personally applying for a savings account with RCBC, here's how:
Opening an RCBC OFW Savings Account
RCBC has been working in the banking industry for more than a century, and the company is committed to offering its clientele the highest possible level of expertise and knowledge. They are an excellent choice because they have confidence in their financial institution and receive support from it as a result of their knowledgeable and helpful staff.
Is RCBC the best bank for you?
You have access to a wide variety of financial institutions, and it is up to you to select the one that is most suitable to meet your needs. So, what is it exactly that makes RCBC so special?
They are a bank that is owned and operated by Filipinos first and foremost. This corporation takes great pride in its heritage and harbours the ambition of making a positive contribution to the national economy. For instance, they provide RCBC Savings Deposit Products to their customers. You can improve your financial situation while at the same time contributing to the growth of the Philippine economy by maintaining your funds within the country.
The fact that RCBC's online banking website is simple to navigate is yet another advantage of banking with the institution. You have access to all of your accounts at any time of day and from any location, regardless of the device you use or where you are! You can even pay your bills with just a few clicks of the mouse if you do it online.
Last but not least, they offer superior levels of customer service across the board. In the event that you experience an issue with your account or have a question regarding one of their services, RCBC will get back to you as soon as possible with answers that are catered specifically to YOU!
What are the various RCBC Deposit Products (Savings)?
RCBC provides a variety of deposit products to meet your requirements, including the following:
Savings Account – RCBC provides its customers with the opportunity to open a savings account at any of its locations across the country, which is a great way to increase the amount of interest you earn on your money. You have the option of beginning the process online, or you can come into any of our locations in person to get started.
Fixed Deposit (FD): A fixed deposit, also known as an FD, is a specialised form of savings account that gives you the opportunity to invest your money for a set period of time while still allowing you to earn interest on the money.
Time Deposit – A fixed deposit, also known as an FD, is a specialised form of savings account that gives you the opportunity to invest your money for a set period of time while still allowing you to accrue interest on the money.
Cash Management Account (CMA): You won't be required to commit all of your liquid assets to the investment for at least a year if you choose to put your money into a CMA rather than an FD, but you'll still be able to take advantage of all the benefits associated with FDs.
Current Account – One more way that you can put your money to work for you is to invest it in something called a certificate of deposit (CD). It is a type of savings account that is linked to a particular time period that can last anywhere from three months to five years in length. The length of the time period can vary. The longer the term that is being used, the higher the interest rate that is being used.
Money Market Accounts: Money market accounts are very comparable to checking accounts; the primary difference is that money market accounts typically provide a higher rate of interest on deposits. Despite the fact that the account's liquidity is lower than that of a conventional checking account, your funds are always accessible to you when you need them. People who need quick access to cash but also want their money to grow are ideal candidates for money market accounts because these accounts offer both of these benefits (also known as "money market mutual funds").
Features and Benefits of an RCBC OFW Savings Account
RCBC OFW Savings Account is a good place to save and invest your money. Here are some of the benefits and features:
3% interest on deposits
The RCBC Savings Account offers a competitive interest rate of three percent (3%) on all deposits, provided that the funds are kept in the account for a period of at least one year. The bigger the deposits you make into your account, the more interest you will accumulate on those deposits. You become eligible for additional privileges if you consistently keep a balance of P50,000 or more in your account.
No service charge for withdrawals and transfers
If you make a withdrawal from your RCBC Savings Account using the bank's internet banking services or automated teller machines, you will not be assessed a fee for the service provided by the bank. This is provided that you meet the requirements that the bank has set forth. When moving money from one RCBC Bank account to another, you won't be charged any fees as a result of the transaction. Transfers that are made to locations that are not part of the bank's network, on the other hand, are subject to a fee.
Limitless withdrawals by cash or cheque
You are free to take out any amount you want from your RCBC Savings Account so long as the aggregate for the day does not go over P500,000 (P1 million per month). If you need to withdraw more than this amount, send a letter to the management of RCB Bank requesting an overdraft. Your request will be processed within two business days of its receipt after the letter is received.
Who are Eligible to Apply for an RCBC OFW Savings Account?
RCBC Savings caters to customers of all ages and backgrounds, be they young or old, employed or self-employed, students or business owners. When it comes to the requirements for opening an RCBC Savings Account, the bank is very flexible and willing to work with customers.
Who are Eligible to Apply?
The following are the basic requirements that you need to fulfill before getting approved:
You have to be at least 18 years old to participate.
Either you must be a citizen of the Philippines or you must be a resident alien who has lived in the Philippines for at least 5 years.
It is not appropriate for a business or other organisation to handle the maintenance of your savings account; rather, an individual or married couple who owns the account jointly should do so.
You are required to be able to provide evidence of your residence, such as a passport, driver's licence, utility bill (water/electricity), or voter's identification card from any part of the country that is currently valid. In the event that you do not possess any form of photo identification, you will be required to provide the names and contact information of two individuals who can attest to having known you for a period of at least one year and give their names as references on your application form.
What are the Requirements for Opening an RCBC OFW Savings Account?
You have the option of opening an RCBC OFW Savings Account either online or at any RCBC branch. You will be required to present a legitimate form of identification, such as a driver's licence or a passport. You are able to open a bank account even if you do not possess a government-issued photo identification card by providing other documents that verify your identity.
In addition to that, you will be required to present evidence that verifies both your employment and your address (if applicable).
How to open an RCBC OFW savings account
The process of opening an RCBC OFW savings account is straightforward and can be accomplished in a matter of minutes. It is necessary for you to have a few things on hand in order to open the account. These things include your personal information as well as a government-issued identification card. The steps are simple and straightforward, and you can immediately begin earning interest on your savings after completing the process.
Online
Step 1: Visit the RCBC Touch page at touch.rbcc.com, select a Product, and then check the box to indicate that you accept the Terms and Conditions for using the product.
Step 2: Complete the Questionnaire Found Online.
Step 3: In order to register for RCBC Online Banking, please provide your user ID.
Step 4: Present an ID issued by the government, and proceed to finish the verification process.
Step 5: Submit your application, which should be fully completed.
In-person
Step 1. Go to the RCBC branch that is situated in the neighbourhood that is most conveniently located for you. Verify that you are in possession of everything that is expected of you.
Step 2. You should let the teller at the bank know that you want to open a savings account for yourself and that you intend to do so. It is possible that you will find it in the section of the bank's website that is dedicated to the creation of new accounts.
Step 3. You have the option to ask the teller for a copy of the application at any time. Make sure that all of the details have been filled out and that you have thoroughly checked them before you submit the form. After you have completed it, give it to the teller along with all of the requirements that were discussed earlier.
Step 4. Before entering the data into their system, the teller at the bank will look over all of the information one last time. They are going to inform you and provide you with the facts once everything has been completed. In addition to that, they will provide you with a passbook in addition to an ATM card.
In some instances, they will tell you to come back within three to five business days to pick up the passbook or ATM card that you requested.
Frequently Asked Questions
1. Is there a product fee?
You won't have to worry about paying any fees associated with opening an RCBC Savings Account because there won't be any.
2. How much can I deposit?
You are permitted to make deposits with a total value of up to 200 times the amount of your initial deposit.
3. How long will it take to open an account and how do I get my ATM card?
Once you have deposited at least Php 500 using a teller, you will have immediate access to your account so that you can use it. You should be able to anticipate receiving your debit and ATM cards within the next three business days if all goes according to plan.
4. What is the advantage of an RCBC Savings Account?
The time required to initiate the opening of a new account is no more than five minutes.
This account does not require a minimum balance and there are no monthly fees associated with it.
The process of opening a savings account and obtaining an ATM card takes no more than ten minutes.
5. What transactions can you do with an RCBC online account?
After you have registered for RCBC's online banking system, you will be able to access your account through the mobile app as well as the web browser version. You will also be able to complete the following types of transactions:
Check your balance
Check your transaction history
Deposit a check
Online fund transfer
Bills payment
Change your credit or debit card PIN
6. How to deposit a check through the RCBC app
This is one of the self-service features that is only available on the mobile app and cannot be accessed in any way, shape, or form through the website. This is how you can accomplish it:
Sign in to the application after it has been launched. To access the dashboard menu, tap the button that looks like three bars across the top left corner of your screen.
Tap on the "Check Deposit" option that appears as one of your options, and then select the "Deposit Check" option to complete your transaction.
Take a clear photo of the front and back of the check, and then tap the "Use Photo" button if you believe the photo is clear enough. In that case, choose "Retake Photo" from the menu.
Make sure you've filled out all of the required fields before clicking the "Deposit" button.
Take one last look at the transaction details before pressing the Proceed button.
You will shortly receive an OTP via text message. All you have to do to complete your deposit is enter the code.
You will see a confirmation on your screen, and all you have to do now is wait for it to finish processing.
Tips on Opening an RCBC Savings Account Online:
1. Research your Account Type
You should get familiar with the many different kinds of bank accounts that are available to you before you open your first account. Which type of bank account—checking or savings—do you use the most? You were able to sample a little bit of each and every option. Make sure that you research the benefits and drawbacks of the other accounts, regardless of which one you decide to go with. You are required by law to obtain information regarding your finances.
2. Learn how to keep your account up to date.
There are limits placed on the amount of money that can be deposited into various accounts at various banks. It is possible that you will not have immediate access to the funds while the deposit is being processed. This could prevent you from making immediate use of the funds. You absolutely must acquire additional knowledge on this subject! The requirement of maintaining a "minimum balance" is one kind of restriction that is used by a lot of different kinds of financial institutions. If the balance in your account falls below that threshold, you may be subject to a fee or be prevented from using your debit card or the ATM. Additionally, you may be subject to both of these options.
3. Inquire about the bank's fees
Before opening a bank account, there are a few things you should keep in mind, as outlined here. There are some banks that have fees that are not readily disclosed to customers. Examples of this include ATM fees, bank costs, overdraft fees, fees for maintaining a minimum balance, fees for maintaining a minimum usage or activity, and monthly or annual account fees. Other fees include fees for maintaining a minimum usage or activity. Check that you are familiar with these expenses so that you won't be caught off guard when you receive your statement.
4. Don't settle for the first bank you come across when opening an account.
There is no reason for you to feel compelled to open your first bank account with the very first financial institution that comes to mind. You need to visit a number of different banks. You can get information from each bank if you walk around to each of them and ask questions. Investigate the financial institution that has been utilised for some time by a member of your family, a close friend or someone else that you are familiar with. If you were referred to the bank by a client who has been doing business with the institution for a long period of time, the bank will almost certainly provide you with additional incentives.
5. Look for digital platforms
One of the most helpful applications of technology that is currently available is the ability to conduct financial transactions online. The vast majority of financial institutions will provide it for you, but some may say no. Learn as much as you can about this instrument as soon as you possibly can, and make it a priority to do so. The ability to pay bills and move money between accounts are just two of the many practical features that come standard with internet banking. When people's days and schedules are packed with a lot of activities, having the option to do their banking online can be a huge time saver for them. Even if you are unable to visit the bank on a daily basis, it is still possible for you to effectively manage your finances.
6. Weigh the Benefits
The following are some helpful hints that you can use when opening your first bank account. Learn as much as you can about the benefits offered by a financial institution and make that a priority. Some financial institutions waive the fees associated with checking and savings accounts, reduce the costs of using ATMs and debit cards, offer free checks, and eliminate the need for paper invoices. Find out what the bank you want to work with has to offer before you make a decision about working with them.
7. Take charge of your account
One of the most aggravating aspects of money is not having control over a bank account. Remember that as a young adult, you should be able to care for yourself. If you do the math, you will learn how to balance your chequebook. Bring your cash register and, if you have one, a current debit card. Always be aware of the amount of money in your account and ensure that you have complete control over it.
Video: How to Open an RCBC Savings Account Online
The steps involved in opening an online savings account with RCBC are outlined in the following short video for your convenience. This is a fundamental and uncomplicated method that can be used by anyone, but it is particularly useful for overseas-working Filipinos who want to put some money away for themselves and their families. The many different kinds of savings accounts that can be opened are also covered in the video. You should now have a better idea of what to anticipate from this savings account as well as how to make use of the features and perks that it offers as a result of reading this article.
Summary
The process of opening a savings account with RCBC is quick and easy, and doing so comes with a variety of benefits. It is easy to open a savings account with RCBC, and you can access it either online or through a mobile app on your device. RCBC gives its customers a number of benefits, including a high-interest rate, no monthly maintenance fees, and a free ATM card, in addition to other advantages.
When looking for the most beneficial savings account, you should begin your search in the appropriate places. Even if banks in your neighbourhood give the impression of being a good option, you should probably look elsewhere if the interest rates they offer are not competitive with those offered by other financial institutions. Obviously, it is in your best interest to investigate all of the possibilities available to you in order to ensure that you are receiving the best deal. In this article, you will learn more about the various types of savings accounts, what interest rates to look for in those accounts, and how to compare those accounts to find the type of savings account that best suits your needs.
RCBC provides a fantastic savings account for customers who have the desire to put money away for the future. The interest rate is above average, and there are no fees associated with the account on a monthly basis. RCBC also provides a mobile app that lets you check the balance of your account, as well as transfer money between accounts. The RCBC Savings Account is, all things considered, a wonderful choice for anyone looking for a straightforward and speedy method to put money away for themselves.
READ NEXT: Manage Your Bank Accounts Effectively with 4 Tips
Contact Information
RCBC Plaza – Corporate Office
Address: Yuchengco Tower 1, RCBC Plaza,6819 Ayala Avenue corner Sen. Gil Puyat Avenue, Makati City Telephone Number: +632 8877 RCBC (8877-7222)
Website: www.rcbconlinebanking.com/
Email: customercare@rcbc.com
Google Map Location: