In one of our previous posts, we have shared with you the steps and requirements needed to open a PSBank Savings Account in the Philippines. For most of us OFWs, the reason why we have voluntarily sought work overseas is to be able to bring food to the table of our families back home. And one way to ensure that we are able to provide for them is by opening an account through which we can send our remittances back home in a fast and secure manner.
The PSBank OFW ATM Savings Account offers a number of convenient features for OFWs and their beneficiaries wherever they may be in the world. On top of PSBank's reliable banking services in the Philippines, account members can also take advantage of shopping without having to pay in cash as well as the convenience of processing remittance transactions through PSBank's wide ATM network. If you're interested to apply for an OFW Savings account with PSBank, here's how: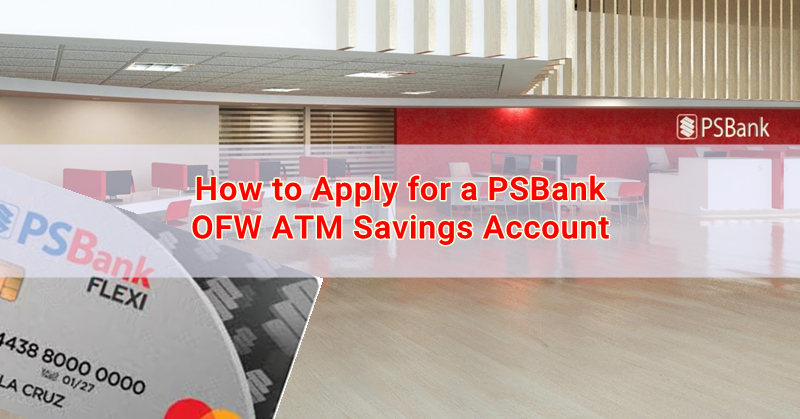 Applying for a PSBank OFW ATM Savings Account
Opening a PSBank OFW ATM Savings account entitles account members to the following benefits and service features:
No initial deposit fee and minimum maintaining balance required
For a minimum monthly average daily balance of Php 5,000, your savings will earn interest at 0.50% per year which will be credited to your account on a monthly basis.
Go cashless when you shop from any BancNet partner establishments worldwide.
Enroll your account to PSBank's Online and Mobile platforms to enjoy safe, fast, and secure banking transactions wherever you are in the world.
Requirements:
Any photographed primary OR two (2) secondary IDs with signature

Primary IDs:

Driver's License
Passport
PRC License
Voter's ID
GSIS / SSS ID Card
Postal ID Card (PVC Plastic Card)
Unified Multi-purpose ID (UMID)
Senior Citizen's Card

Secondary IDs:

Seaman's Book
Overseas Workers Welfare Administration (OWWA) ID
OFW ID
Tax Identification Number (TIN) Card
Police Clearance
National Bureau of Investigation (NBI) Clearance
Barangay Certification/Clearance
City Health Card/Health Certificate Card
PhilHealth Insurance Card ng Bayan (PHICB)
Company ID

 [New Requirement] Tax Identification Number (TIN)
Procedures:
Go to your preferred PSBank service branch and bring all the above-listed documentary requirements on your visit to the bank.
Advise the bank officer at the New Accounts Desk that you would like to open an OFW ATM Savings account.
Once you are handed with the application forms, make sure to complete all of them diligently. Submit the forms along with the other account opening requirements to the bank officer.
Once your application has been reviewed and accepted, expect to receive your ATM card on the same day.
Tip: Inform the bank officer that you would like to enrol your savings account on PSBank's Online and Mobile banking platforms and that you would like him or her to walk you through this process.