While other Western countries, most notably the US, have been driving efforts to control immigration movement, the federal government of Japan is looking to accommodate new and highly-skilled immigrants to receive permanent resident (PR) status. Japan is even looking to implement a new residency scheme to keep expats under a technical internship programme to mitigate the labour shortage in the country.
Under the new law which took effect starting March of this year, foreign applicants who hold multiple degrees and receive a good pay check will only need a year to become a permanent resident in Japan. The new permanent residency scheme reflects Japan's desire to attract more workers with highly specialized and advanced skill-sets. There are only four basic requirements for those qualified to apply: an original and valid passport, a visa application form, a recent passport size photograph, and a Certificate of Eligibility (COE). The last one being a little trickier than the others because a certificate of eligibility (COE) may come in two categories: (a) If an employer has offered you a job in Japan; or (b) if you are the spouse or child of someone already living in Japan. A minimum monthly support amounting to $1,600 is required to qualify for a COE.
But that's not the only way to move in and start a new life in Japan. For those who've thought about applying for PR status here in Japan, here's how: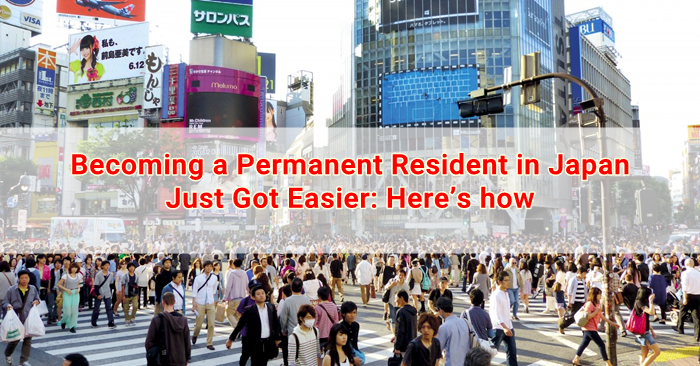 Applying for Permanent Resident Status in Japan Got Easier
Foreign nationals who have consistently stayed in the country for over ten years and are in good standing with the Japanese government automatically become eligible to apply for permanent residence status here in Japan.
Requirements:
Note: The standard paper size for all photocopies of documents is A4. Also, once you have submitted all your documents, the Immigration Office will no longer return them to you so make sure that you bring photocopies of your original documents so as not to mistakenly give up all your original documents.
Your valid and original passport and residence card (or an alien registration certificate considered equivalent to a residence card)
A duly accomplished visa application form
One (1) recent 4 cm x 3 cm photo in plain white background
A certificate of employment or business license
A certificate of Tax Statement during the last three (3) years.
Proof of Financial Capacity (i.e. statement of assets, real estate)
Letter of Guarantee (the guarantor's certificate of employment, proof of income)
Procedures:
Visit the Regional Immigration Office and submit the above requirements at the service counter of the Department.
Settle the receiving permission fee of JPY 8,000 (must be with revenue stamps).
Keep all receipts and wait for further notice from the Immigration office.
Note: The processing duration of a change in residency (PR) status usually takes about six (6) months.